Welcome to our Ragnarok Origin Classes Guide. Here, you'll learn how the eighteen various classes interact.
You're a complete newbie when you build your first Ranganrok Origin character. There was no good equipment, no exceptional powers, and no obvious goal. However, as you progress through the game, you'll discover that there are a plethora of various classes and pathways to pick from. To learn about career progressions, have a look at a Ragnarok Origin Classes guide.
Each of the six primary classes in Ragnarok Origin has two secondary job progressions. The levels required to unlock each job are listed below (class).
Also, Read: Pet Simulator X wiki Guide 2022
Ragnarok Origin Classes Guide
Base Level 10 – First Job

Swordsman, Mage, Acolyte, Thief, Archer, Merchant

Base Level 40 / Job Level 40 – Second Job

Knight, Wizard, Priest, Assassin, Hunter, Blacksmith

Base Level 70 / Second Job Level 40 – Third Job

Lord Knight, High Wizard, High Priest, Assassin Cross, Sniper, Whitesmith
Ragnarok Origin Classes Described
Swordsman > Knight > Lord Knight
Mage > Wizard > High Wizard
Acolyte > Priest > High Priest
Thief > Assassin > Assassin Cross
Archer > Hunter > Sniper
Merchant > Blacksmith > Whitesmith
Swordsman > Knight > Lord Knight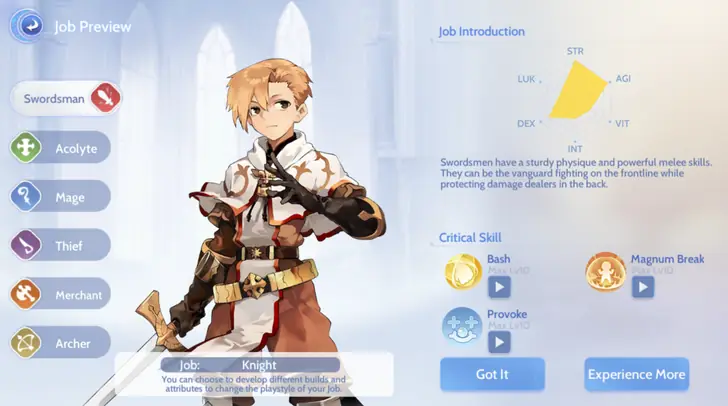 The swordsman lesson is a simple and beginner-friendly class. Your mission is to get in the enemy's face and act as a tank, armed with melee weapons. You are the group's primary guardian, but you can also deal serious harm. STR, AGI, and DEX will be your stats. The swordsman can rise through the ranks to become a Knight and then a Lord Knight.
Mage > Wizard > High Wizard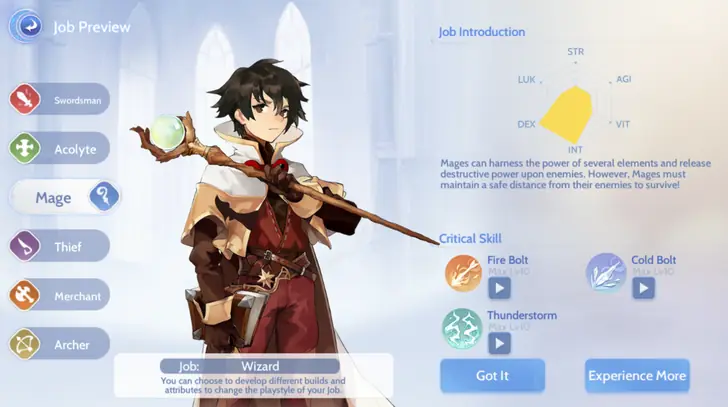 Your primary function as a mage is to do massive amounts of damage to enemies. Because you're a little soft, you have to be careful not to get smacked too hard. The magician is also an excellent farmer. This is the class for you if you enjoy playing casters. The mage can develop to the levels of Wizard and High Wizard, with DEX and INT as the key stats.
Acolyte > Priest > High Priest
In Ragnarok Origin, the acolyte is the primary healing class. You, along with a good knight, will be in high demand for groups. Building out a combat priest can dole out some decent PVE damage, but they aren't as useful in groups. DEX and INT will be your primary stats, to begin with. After levelling up, you can become a Priest or a High Priest.
Thief > Assassin > Assassin Cross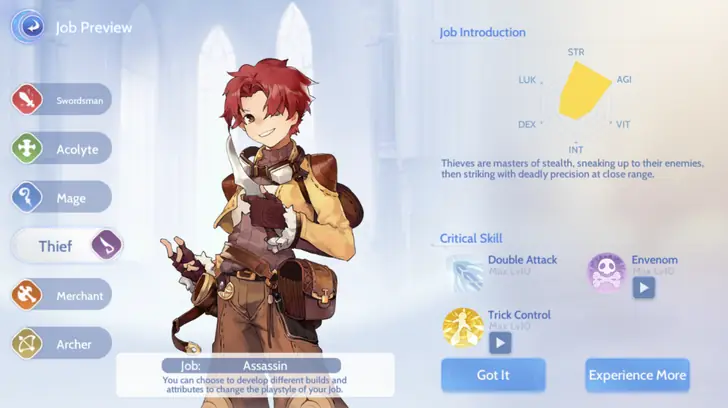 The thief class is for you if you enjoy hiding in the shadows. The thief is a fast-moving class whose primary goal is to backstab your opponents. The thief's major attributes to work on are STR and AGI. Once you've reached a certain level, you can become an Assassin and then an Assassin Cross.
Archer > Hunter > Sniper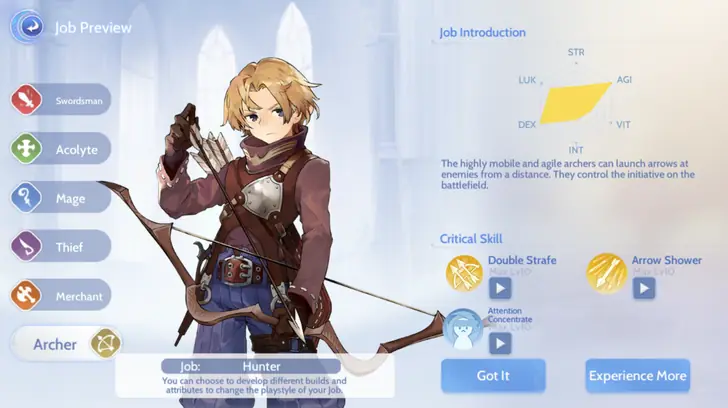 In Ragnarok Origin, the hunter is a formidable ranged class. If you're planning to play solo, the archer is a wonderful choice, but it may also be used in groups. AGI and DEX will be your key focal attributes. You can develop a Hunter and eventually a Sniper as you go.
Merchant > Blacksmith > Whitesmith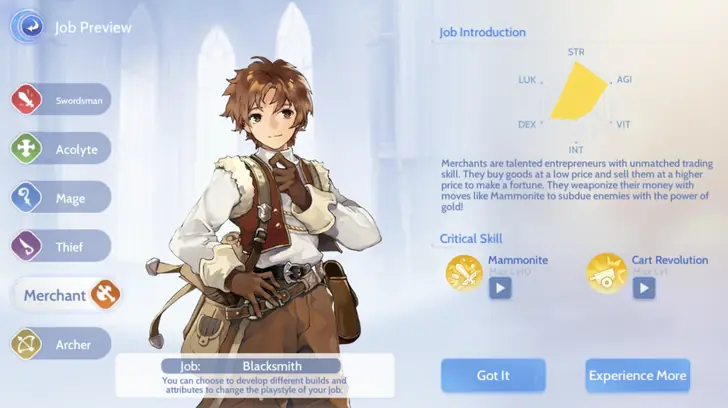 The merchant is one of Ragnarok Origin's more unusual classes. This class improves your trade abilities and allows you to earn some in-game money. Despite the fact that merchants deal in currency, they remain strong. STR, AGI, and DEX will be your primary attributes. You can progress from a Blacksmith to a Whitesmith.
This concludes the Ragnarok Origin Class Guide.
Ragnarok Origin Details⇓
Developers – GRAVITY Co., Ltd.
Genre – Role Playing
Price – Free
Contains ads · Offers in-app purchases
Some unique features:
◈ Endless Build Customization
◈ Fantasy RPG Story Campaign 
◈ Dynamic Action Battles
◈ Mercenary System for Solo Players 
◈ Community Social System – Let's play together! 
Community Links
Facebook: https://www.facebook.com/RagnarokOriginNA/
Twitter: https://twitter.com/ro_origin
Discord: https://discord.com/invite/MrGW7Kft7m
Ragnarok Origin Codes
XOXO – Gacha Lottery Tickets x3
GamersExploit Tip
Don't worry if the item you're looking for is not included on this list. Post a comment on the article to stay up to date with the news. As required, we will update the code.
Any comments or recommendations would be greatly appreciated by the GamersExploit team.
skylah